BYD (Build Your Dreams) Auto Co., Ltd.
| | | |
| --- | --- | --- |
| BYD E6 Battery Electric Car | | |
| | | |
| | | |
| | | |
About BYD Auto Co., Ltd.
Founded in 1995 as a pioneer in battery technology, BYD's mission is to change the world by creating a complete, clean-energy ecosystem that reduces the world's reliance on petroleum. BYD's innovative products are leaders in multiple sectors, including battery-electric automobiles, buses, medium- and heavy-duty trucks and forklifts; the SkyRail monorail system; solar power generation and energy storage systems; and consumer electronics.
BYD North America's headquarters is located in Downtown Los Angeles, with a 450,000-square-foot bus manufacturing facility in Lancaster, California. BYD employs over 750 workers in the United States.
BYD is the only electric bus manufacturer with a unionized workforce (SMART Local 105) and a Community Benefits Agreement establishing training and apprenticeship programs for workers with traditionally high barriers to employment, and mandating diversity in hiring.
BYD has been the world's largest electric vehicle manufacturer for the past three years running, in both consumer and commercial/industrial electric vehicles. Last year BYD sold more than 113,000 plug-in electric vehicles worldwide and currently has nearly 40,000 electric buses in service around the world. BYD employs over 20,000 engineers globally, constantly innovating in order to make the world a better place.
At the heart of BYD's technology is its batteries. One of the largest rechargeable battery manufacturers in the world, BYD develops batteries for a broad range of applications—from cell phones and laptops to large-scale, grid-connected energy storage systems. BYD's non-toxic Iron-Phosphate battery chemistry makes it the safest choice available on the market today.
BYD is a publicly traded company with 60% of its stocks owned by U.S. investors. Warren Buffett's Berkshire Hathaway is the largest single shareholder at 8%.
Article from Bloomberg Business April 16, 2019
The World's Biggest Electric Vehicle Company Looks Nothing Like Tesla
BYD, which built the battery in your '90s cellphone, now produces more EVs than anyone—and it wants to sell them to you, soon.
<![if !vml]>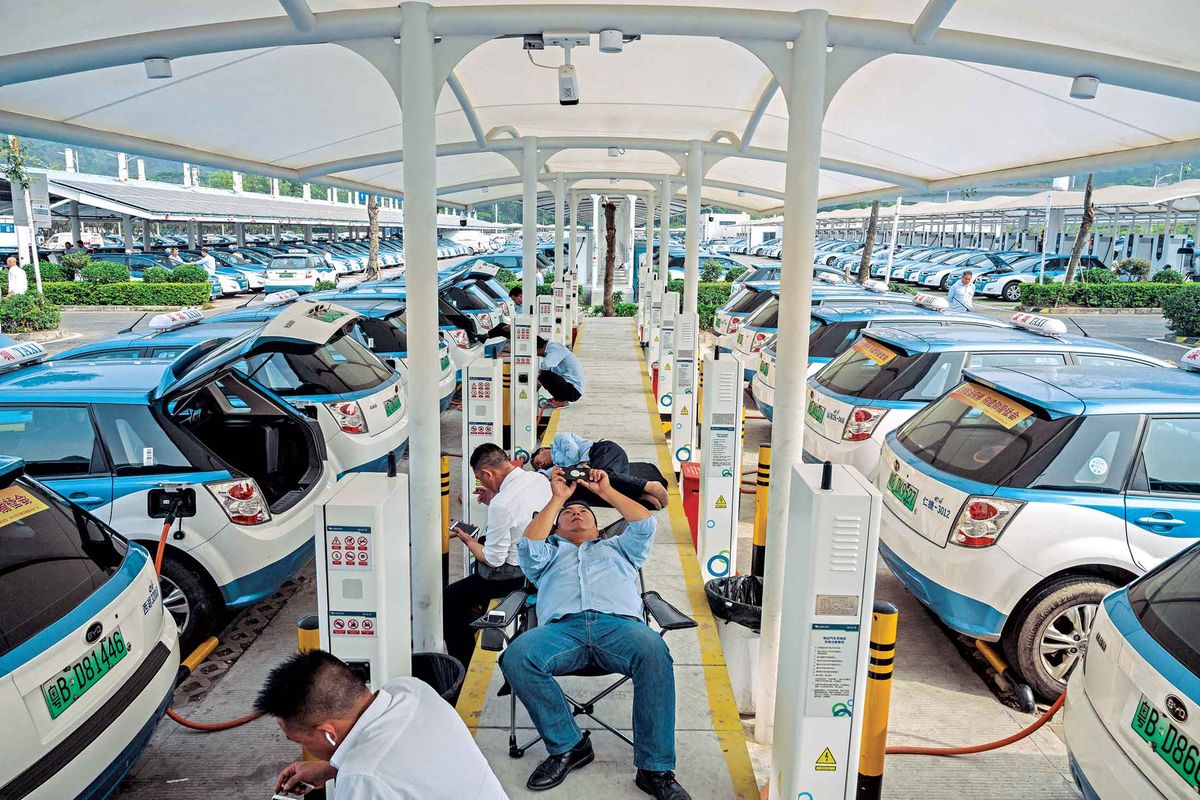 <![endif]>
BYD-built taxis charging in Shenzhen.
PHOTOGRAPHER: BILLY H.C. KWOK FOR BLOOMBERG BUSINESS
Sign up for Next China, a weekly email on where the nation stands now and where it's going next.
On the floor of a cavernous factory in southern China, dozens of unfinished cars, freshly painted in cherry red or dark silver, dangled 6 feet above a spotless concrete floor. Their engines had been installed a few moments earlier, but they were still skeletal, more the promise of vehicles than the real thing. As they drifted down the line, a sledlike robot scooted into position beneath each chassis, slowing to match its speed.
The robot carried a crucial payload: a battery about the size and shape of a double mattress, wrapped in a gray plastic casing. Suddenly, an accordion lift extended upward from the sled and inserted the battery into the car's undercarriage. Workers in blue jumpsuits and white cotton gloves moved swiftly to the battery's edges, carrying rivet guns connected by curling red cables to a supply of compressed air. Once the battery was rattled into place, the accordion retracted, sending its robot host scurrying off in search of fresh cargo.
Americans associate electric cars with the luxury of Tesla, the unrivaled conveyance of choice for the Sand Hill Road set. But these newly assembled vehicles, part of a family of SUVs called the Tang that retails from about 240,000 yuan ($35,700), are aimed squarely at middle-class drivers in the world's largest electric vehicle market, China. Their manufacturer, BYD Co., is in turn the No. 1 producer of plug-in vehicles globally, attracting a tiny fraction of the attention of Elon Musk's company while powering, to a significant extent, a transition to electrified mobility that's moving faster in China than in any other country. Founded in Shenzhen in the mid-1990s as a manufacturer of batteries for brick-size cellphones and digital cameras, BYD now has about a quarter-million employees and sells as many as 30,000 pure EVs or plug-in hybrids in China every month, most of them anything but status symbols. Its cheapest model, the e1, starts at 60,000 yuan ($8,950) after subsidies.
BYD's cars and other vehicles—a Tonka set of electric buses, forklifts, utility vans, street sweepers, and garbage trucks—run exclusively on batteries the company manufactures itself. Its sprawling Chinese facilities can produce almost 30 gigawatt-hours of power annually, more than enough to run every iPhone ever made. Last year, BYD opened one of the world's largest battery plants, a 10 million-square-foot facility in Qinghai province, and in February it broke ground on another of similar size. This empire has made a billionaire of its founder and chairman, a former government chemist named Wang Chuanfu. It's also been a boon for another high-net-worth individual, Warren Buffett, whose Berkshire Hathaway Inc. bought a 10 percent stake in BYD a decade ago.
Even for a nation of superlatives, China has adopted EVs at a stunning pace. Thanks to generous government subsidies and municipal regulations that make owning an internal combustion vehicle in many cities inconvenient, expensive, or both, China accounts for more than half the world's purchases of electric cars. More EVs were sold in Shanghai last year than in Germany, France, or the U.K.; the city of Hangzhou, smallish by Chinese standards, had higher sales than all of Japan. Virtually all of Shenzhen's 20,000 taxis are electric BYDs, compared with fewer than 20 of any make in New York. More than 500,000 electric buses ply Chinese roads, compared with fewer than 1,000 in the U.S.
<![if !vml]>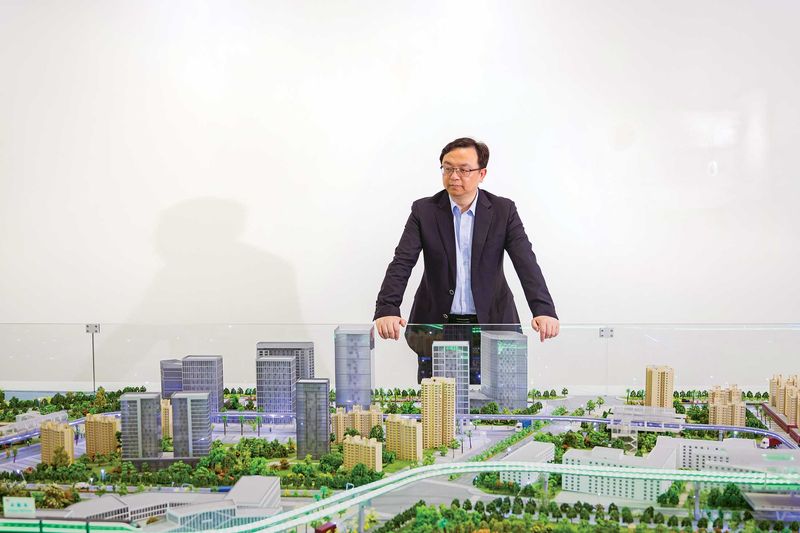 <![endif]>
Wang
PHOTOGRAPHER: BILLY H.C. KWOK FOR BLOOMBERG BUSINESSWEEK
Eager to beat back city smog and support a growing industry, the Chinese government has said it intends to eliminate fossil fuel-powered vehicles by an as-yet-unspecified date, probably about 2040. Given the scale of the market, China's demands stand to shape 21st century carmaking every bit as much as the American consumer's shaped the 20th—giving it pole position in the transportation industry and all the strategic advantages that entails.
This acceleration toward an electric future is a triumph for Wang, 53, who began advocating for mass EV adoption more than a decade ago. It's also creating an unprecedented challenge for his company. Attracted by China's huge customer base and clear policy direction, Volkswagen AG, Ford Motor Co., and other global automakers are introducing dozens of electric models tailored to local tastes. They'll arrive just as the Chinese government scales back purchase subsidies, a move that will disproportionately affect manufacturers such as BYD, whose products skew toward the affordable end of the market. Meanwhile, the company's chances overseas are threatened by a wave of anti-China sentiment, expressed through measures like a recent U.S. effort to ban Chinese bus producers from receiving federal funds. Investors are worried: BYD's Hong Kong-listed shares—the best-performing on the planet during one stretch in September 2017—have slumped 18 percent over the past 12 months.
Wang and his colleagues are determined to prove doubters wrong by building an aspirational global brand, something no Chinese manufacturer has accomplished. And while they're proud of the company's pioneering history, they're acutely aware that getting somewhere first doesn't ensure long-term success. BYD may have begun China's electric revolution; now the carmaker's leaders have to figure out how to finish it.
In the early 1990s, Wang was living in Beijing, working as a midlevel researcher at the General Research Institute for Nonferrous Metals, a government lab that forged practical innovations from metallurgical findings. His work focused on the rare-earth metals essential to batteries and consumer electronics, and as the entrepreneurial fervor of the Deng Xiaoping era filtered into government, he began wondering what might be possible in the private sector.
In 1995 he founded BYD in Shenzhen, which was undergoing its fabled transformation from regional market town to globally connected megalopolis. It's not clear if BYD stood for anything; the company now says it's an acronym for "build your dreams" and renders the phrase in chrome on some car models, but this could be an attempt at retconning.
<![if !vml]>
<![endif]>
Workers on the factory floor.
PHOTOGRAPHER: BILLY H.C. KWOK FOR BLOOMBERG BUSINESSWEEK
Wang was a nobody in Shenzhen, one of thousands of young entrepreneurs angling for a piece of the global supply chain. But he was also an expert in batteries at a moment when they were coming to underpin a fundamental technological shift. As lithium-ion-powered laptops and mobile phones became commonplace in the late 1990s, BYD's low costs and nimble production methods gradually allowed it and other Chinese companies to unseat Japanese manufacturers as the go-to suppliers. (Not without controversy: As it grew, BYD was sued for intellectual-property theft by Sanyo Electric Co. and Sony Corp. The Sanyo suit was settled; a Japanese court rejected Sony's complaint.) By the early 2000s, BYD batteries were in Nokia handsets, Black & Decker power tools, Dell notebooks, and even the era's ultimate status symbol, Motorola's Razr phone.
In 2002 the company went public in Hong Kong. The next year, BYD bought a majority stake in Xi'an Qinchuan Auto Co., a troubled state-owned carmaker. At the time, battery-powered cars were curiosities, limited mostly to orphan models designed to meet regulatory mandates in California. But Wang saw them as a natural extension of BYD's core business, arguing that the deal would "expedite the development and production of rechargeable power batteries for electric motor vehicles." Investors emphatically disagreed, pushing BYD's shares down by a fifth on the day of the announcement.
Automotive product timelines are lengthy, and Wang's influence on BYD Auto, as the acquired business was renamed, wasn't apparent until 2008. That year he unveiled the F3DM, the first plug-in hybrid to be produced at commercial scale anywhere. Technologically novel, with a claimed 60-plus miles of pure-electric range, the car had approximately zero sex appeal, in contrast with Tesla Inc.'s Roadster, which made its debut the same year. "We drive faster in our driveways," Car and Driver said, sniffing at the F3DM's 93 mph top speed. It was a flop in China and abroad; BYD has barely exported passenger cars since.
Yet as Tesla was focusing on the midlife-crisis market, BYD was electrifying less glamorous vehicles and building a business supplying solar panels and other infrastructure. The company began mass-producing electric buses in 2009, and the next year won a 1,000-vehicle order from the province of Hunan. Similarly sized contracts followed, along with smaller deals in cities such as Amsterdam, Frankfurt, and Los Angeles—though the latter deal and another in Albuquerque became embroiled in criticism over mechanical problems that led the New Mexico city to return its BYD buses. In California, there were also allegations that workers were making as little as $1.50 an hour. (California regulators dropped a wage complaint after BYD showed it was paying more than minimum wage, and the company says its vehicles worked correctly in both cities.)
In retrospect, the logic of focusing on big, lumbering vehicles operated by cost-conscious public transport authorities was obvious. Typical car-buyer concerns such as acceleration and top speed are less of an issue for a vehicle designed to stop every few blocks. Nor is range anxiety a factor on fixed routes. Putting commuters on electric buses, the thinking goes, also helps build brand awareness and acceptance for EVs generally. And the possible upsells are manifold: BYD solar generators, BYD energy storage installations, BYD fast chargers, perhaps even a few BYD electric forklifts to shuttle parts around.
BYD's totalizing philosophy becomes evident as you approach the company's headquarters in the eastern suburbs of Shenzhen. The last leg of the trip runs down BYD Road, a six-lane corridor divided by rows of solar-powered BYD light standards. About 40,000 people work on the campus, traveling to its factories and office blocks on BYD buses. The internal roads are almost spotless, patrolled at frequent intervals by BYD street sweepers. In front of the hexagon-shaped central office block, the company has built a test track and station for SkyRail, a prefabricated monorail system designed to be dropped into place above congested city streets—a hedge in case the EV revolution doesn't take hold.
<![if !vml]>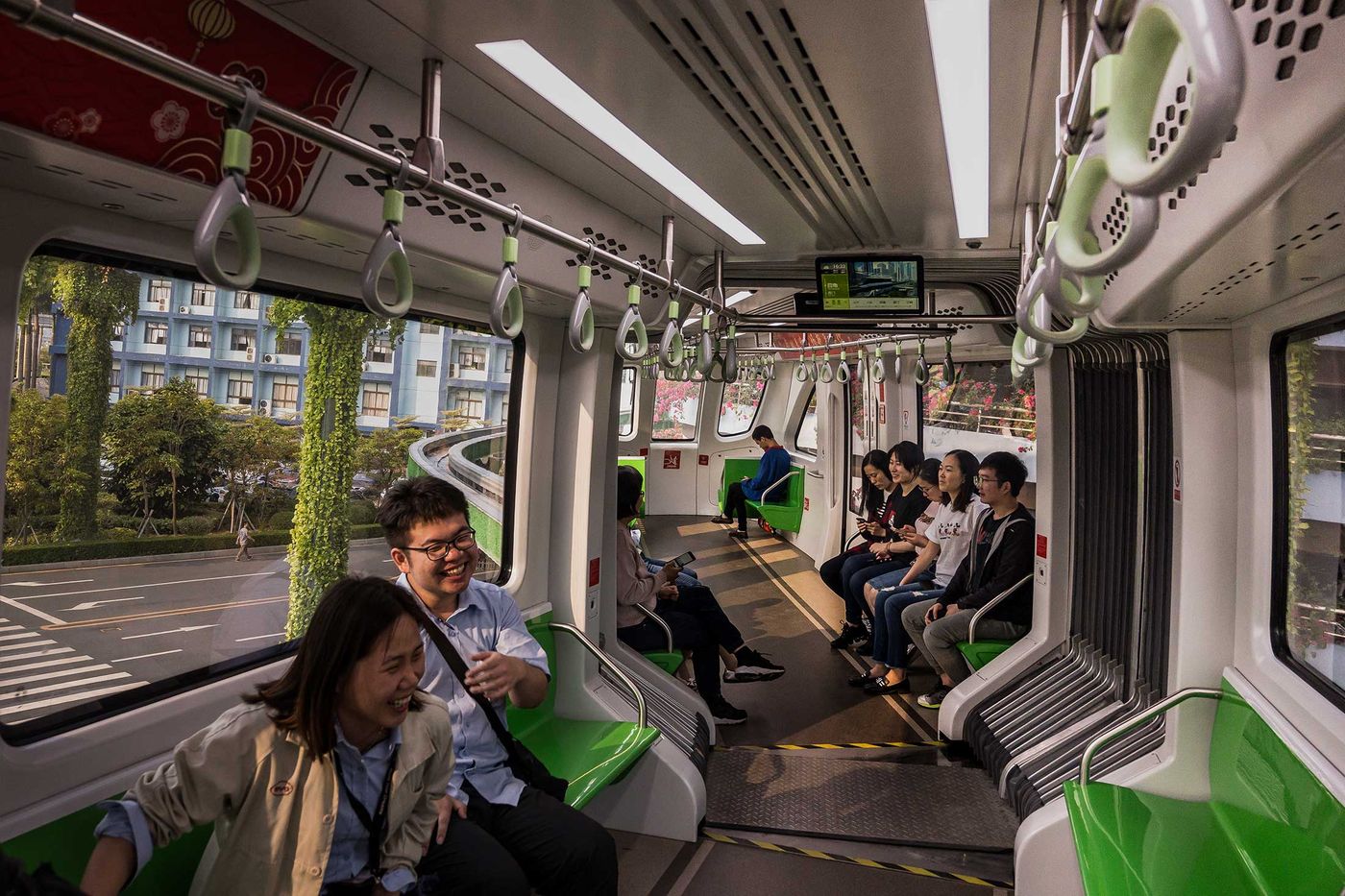 <![endif]>
BYD's rail transit project Yunba operating at the company's Shenzhen headquarters.
PHOTOGRAPHER: BILLY H.C. KWOK FOR BLOOMBERG BUSINESSWEEK
Wang works on the second floor of the main building. Pride of place on his desk belongs to a model of a bright red Tang SUV. On the shelves behind, next to scaled-down BYD dump trucks, are a white sculpture depicting a seated Mao Zedong and a photo of Wang embracing Buffett—an all-too-tidy metaphor for socialism with Chinese characteristics.
Although corporate lore frames Wang as something of a Great Man of Electricity, in person he's unassuming, with soft shoulders, a round face, and full cheeks. For an interview he wears his usual uniform: dark slacks and a light blue button-down with a subtle company logo sewn by the breast pocket. The shirt color reflects his managerial role—BYD's Star Trek–style dress code requires technical supervisors to wear beige, production-line employees dark blue, and so on. His faded ID photo, hanging on a lanyard around his collar, looks as if it dates to the early 2000s. Employees are eager, sometimes awkwardly so, to tell stories about Wang's disinterest in the fruits of his net worth, approximately $4.8 billion, according to the Bloomberg Billionaires Index. While on his way to meet investors in Hong Kong, one colleague recalls, the chairman was advised to spruce up his look; his solution was to spend a few dollars on a new shirt from a roadside vendor.
Projected EV Sales
Data: Bloomberg New Energy Finance
Wang concedes that BYD is facing a brutal contest for customer loyalty. But he also professes confidence that the world is on the cusp of a permanent shift to electric mobility and that his company will be out front at home and then abroad, where he estimates it could eventually sell 20 percent to 30 percent of its vehicles. "We are tapping into a once-in-a-century opportunity," he says, opening his clasped hands for emphasis. "And we have the whole industrial chain. No one else does that."
In automotive circles, Wang's predictions of the combustion engine's imminent demise often meet profound skepticism. Chinese sales of new-energy vehicles, a category comprising plug-in hybrids, pure EVs, and fuel-cell cars, more than tripled from 2015 to 2018, but they still account for only 4.5 percent of the total. The doubters, he argues, underestimate the country's capacity for reinvention. "The Chinese way is to replace everything at once," Wang says. "When we switched from black-and-white to color TVs, it took three years. In the West it was 10. Going from feature phones to smartphones took about one year. In Europe it was three. Cars will be the same. It will go very fast."
<![if !vml]>
<![endif]>
Workers install the battery on a BYD car at the Shenzhen factory.
PHOTOGRAPHER: BILLY H.C. KWOK FOR BLOOMBERG BUSINESSWEEK
Wang says he's argued in conversations with government officials that with the right mix of subsidies, research incentives, and regulatory mandates, China could turn off its last conventional car by 2030. In buses it's already well on its way, with taxis making rapid progress. Wang says delivery vans and other logistics vehicles could follow soon. Such a switchover in the country that now accounts for almost a third of global carbon emissions could help address climate change—not to mention improve BYD's bottom line. "We might receive some objections about cost, but the cost to the environment is higher," Wang argues.
No other large country is prepared to move so fast, least of all the U.S., where the Trump administration has proposed eliminating subsidies for EV purchases and sought to cancel planned improvements to mileage standards. Although such rollbacks might delay the U.S.'s electric transition, Wang says BYD and other Chinese companies will enjoy a leading position when it does arrive. "If there is no such market in the U.S., who would go there and invest?" he asks. "China will hold the advanced technology." So far the evidence suggests that President Xi Jinping and other policymakers share Wang's vision, if not his timetable, and are prepared to back it with the muscle of the state. "The Chinese government," Wang says, is "omnipotent."
<![if !vml]>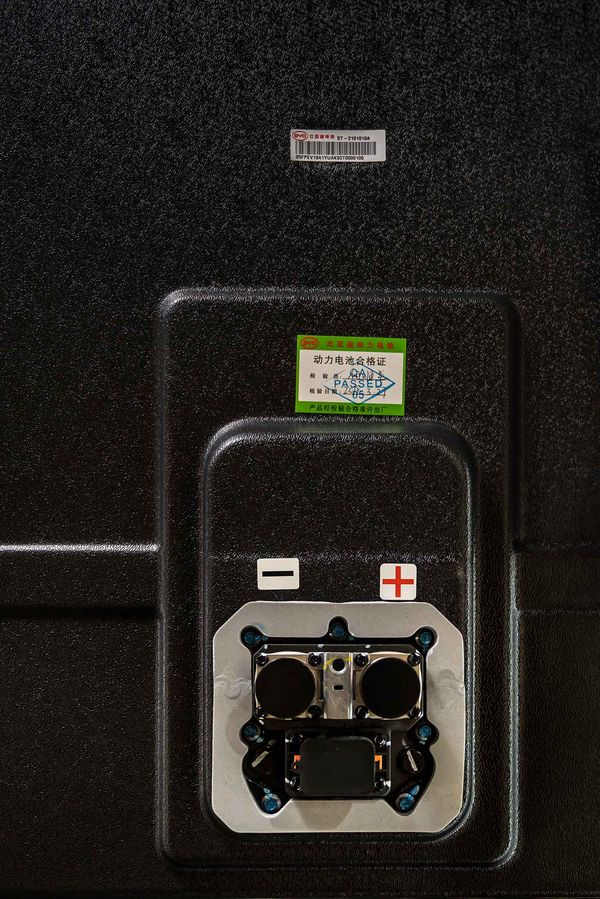 <![endif]>
A battery for a BYD car.
PHOTOGRAPHER: BILLY H.C. KWOK FOR BLOOMBERG BUSINESSWEEK
China has more reason than most countries to wean itself from oil. Relative to the size of its economy, its domestic reserves are modest, and much of the crude it imports travels by tanker from the Persian Gulf through waters dominated by the navies of the U.S. and its allies. Then there's pollution. Factories and power plants are the worst contributors to the smog that chokes Chinese cities, but vehicles certainly aren't helping. And unlike in the U.S., the major oil companies are state-owned, giving them little choice but to fall in line with government decrees. The closest thing China has to a fossil fuel lobby is its coal industry, a major employer that accounts for about two-thirds of electricity production—a significant caveat to claims that EVs will lead China to a low-carbon future.
Some of the tools policymakers have used to push consumers toward EVs would strike American or European drivers as draconian. Before buying a new gasoline car in Shanghai, a purchaser must enter an auction for one of a limited number of license plates, at prices that hovered at about $14,000 each last year, according to BloombergNEF. An EV plate, by contrast, is free. Comparable systems are in place in other big cities.
The most important factor in China's electric boom, however, has been a complex system of government subsidies that in 2018 could provide more than $7,900 for the purchase of a long-range, pure-electric car. With the incentives applied, a Chinese consumer can buy an EV for less than $15,000, an affordable proposition for millions of middle-class families. That advantage has buoyed EV sales even as overall car purchases declined last year for the first time since the 1990s, in line with China's cooling economy and a worldwide auto industry slowdown.
Number of Public Charging Stations
Public and dedicated EV charging posts. Data: Columbia SIPA Center on Global Energy Policy
But the subsidies, which have cost the government at least $14.9 billion, were always meant to be temporary. They're now being phased out, on the theory that EVs are a sufficiently mature technology to stand on their own in the marketplace. In place of the subsidies will be charging-station investments and production requirements stipulating that a rising percentage of each carmaker's output be electric. It will be a tricky time for BYD and other EV producers. Industry analysts typically estimate that electric cars won't be fully cost-competitive with gasoline ones until the mid-2020s. For many models, the choice, at least for now, will be between raising prices or losing money.
And dozens of Chinese manufacturers are now vying for customers, from heavyweights BAIC Motor Corp. and SAIC Motor Corp. to buzzy startup NIO, a maker of electric SUVs that raised $1 billion when it went public in New York last year. American and European automakers, too, are scrambling to increase EV sales in China. Volkswagen, the world's largest car manufacturer, began construction in October on a Shanghai factory designed to make 300,000 vehicles per year, part of a plan to introduce 30 new electric models in China. Tesla—still the major player at the high end of the market, despite the antics of its founder—is building its own Shanghai plant, its first factory outside the U.S. To win, BYD will need to turn its utilitarian cars into objects of desire.
The executive charged with this task works deep within BYD's headquarters, past a room set aside for a Communist Party cell. (Every large Chinese corporation has one.) Wolfgang Egger is BYD's chief designer, a role he took in 2016 after stints at Alfa Romeo, SEAT, and Audi, where he was head of design. His mandate in Shenzhen is to transform the look of BYD's cars, particularly its growing lineup of luxury models.
Egger, who grew up in car-crazy Bavaria, enjoys an apparent exemption from BYD's dress code, appearing in a sharply tailored gray suit over an open-neck navy-blue shirt, an Apple Watch peeking out from under one cuff. "We want to be a technology-oriented brand," he says in German-accented English. "But importantly we want to also be a very passionate brand, with emotion in our cars—feeling, passion."
Working in China has involved some adjustment. For one thing, color preferences are markedly different. Blue and gray barely sell, and black is associated with government officials. Whites and earth tones are winners. And dashboard displays in higher-end cars need to make room for air-pollution sensor readouts. But Egger says he feels invigorated to be working in a country still in the early stages of its love affair with the automobile. "You still have a little bit of what we had as young people, getting excited about the new car six months before it came out," he says, adding that compared with Western companies with long histories, "we are starting almost on white paper."
<![if !vml]>
<![endif]>
Taxi drivers rest between rides in Shenzhen.
PHOTOGRAPHER: BILLY H.C. KWOK FOR BLOOMBERG BUSINESSWEEK
As he speaks, Egger picks up a freshly sharpened pencil left for him by his assistant. He runs it obliquely across a large sketchpad, conjuring a remarkably faithful depiction of the Tang's grille and headlights. Viewed head-on, the vehicle is meant to resemble the face of a dragon, but it takes some imagination to get there. "You feel the power of the dragon in this," Egger says, continuing to sketch. "We call it the dragon story."
If the concept seems contrived, it hasn't deterred Chinese consumers. The plug-in hybrid version of the Tang was China's third-best-selling electric vehicle in January—excellent for a high-end model in a crowded market. (Another BYD SUV, the midrange Yuan, was No. 1.) An ad campaign starring a grim-faced Leonardo DiCaprio, flooring a Tang down the streets of Los Angeles, probably helped.
And if BYD fails to create cars that win customers' hearts, Wang has a backup plan: returning to the company's roots as a third-party battery manufacturer, this time for vehicles. BYD is midway through an effort to increase overall production capacity from about 28GWh at the end of last year to 65GWh in 2020, and higher beyond—potentially far more than it would need for its own cars. The idea is to become an indispensable supplier to other carmakers, impervious to shifting consumer tastes (or to a mass shift to ride-hailing services). Selling EVs to consumers and a key component to competitors might seem like a conflict of interest, but BYD executives are quick to point out that the arrangement is common in consumer electronics. Samsung Electronics Co., for example, produces both top-end smartphones and screens for the iPhone.
Even this plan is no guarantee of long-term prosperity. Making batteries is a complex, costly, and time-consuming process of painstaking development in return for incremental gains. BYD guards its tech carefully. Visitors to many of its buildings in Shenzhen can move around unbothered. But security at the battery plant is tight. Phones must be briefly surrendered before entering, so their camera apertures can be covered with blue security tape that will read "OPEN VOID" if tampered with. Three shifts of workers keep the line running 24/7. Much of the work is done by robots, including gantries that fetch barrels of raw materials stacked 75 feet high. Turning them into finished, functioning cells can take as long as a month, including extensive testing to monitor for defects. "And then it becomes a real baby," manager Sarah Sha jokes.
Near the factory's exit is an unintentional demonstration of the limits of the electric revolution—and of why EVs still require significant subsidies to compete with the power and convenience of fossil fuels. The battery packs for several BYD vehicles are set up in a long hallway, from thick rectangles for plug-in hybrids to Lego-like mountains of cells installed around the chassis of pure electrics. In a large BYD bus the batteries alone weigh 2 tons, and they require three to four hours to reach a full load with even the fastest charger—a function of technological limitations that even China and its most powerful companies can't just wish away.
Wang wants BYD to one day be the world's leading enabler of electric mobility—the Exxon Mobil and General Motors of the gigawatt age, all in one. But beyond China, where a powerful, centralized state has made switching to EVs a national priority, almost no government has yet shown itself willing to make a comparable commitment. China will almost certainly be the country where the EV revolution arrives fastest; what's not yet clear is how much farther it will spread and how quickly—and whether BYD will be among its winners.
With practiced modesty, Wang claims to be far less concerned about the second question than the first. "My personal success is less important," he says. "The impulse for me is to create a new industry."