Micro Mobility Systems Microlino Electric Car
About Micro Mobility Systems Microlino Electric Car
The Microlino was first presented in 2016 at the Geneva Car Show. Based on the design of the Isetta, a 1950s bubble car which was sold over 160,000 times, the new design has a battery powered electric motor. The two-seat small car is designed for urban mobility with a top speed of 90 kilometres per hour (56 mph), a range of 120 kilometres (75 mi) and can be charged from a domestic power outlet. The car is expected to be on the market in 2019 with an estimated price of 12,000 Euro and initial sales limited to Germany and Switzerland. In July 2018, the firm announced that Microlino has just passed the final tests for EU homologation.
Everything started with a simple question: "How much car do you really need for daily driving?" Wim, Oliver and Merlin Ouboter, the Swiss family behind the famous Micro Kickscooter, asked themselves this question. Coming from a completely different industry they could not understand how most cars nowadays are too big and heavy for the way they are being used. On average, there are just 1.2 people per car, driving a daily distance of just 30 km. But how would the ideal vehicle for daily driving and urban mobility look like?
They realized that similar to the kickscooter which utilized the mobility niche between walking and cycling, it had to be a cross between a motorbike and a car. Small and nimble but at the same time protected from the weather and enough space for groceries shopping. During their research, they stumbled across the 1950's bubble cars. Inspired by them, they started making the first designs for the Microlino.
Together with the Swiss university ZHAW the design and technical specifications were finalized. They then decided to take the next step: building a prototype which was done in China in the second half of 2015 with the goal to present it at the 2016 Geneva Car Show. Last minute the three Ouboters managed to get a tiny booth of just 6 m2. It was the first time the Microlino was presented to the public and it was a huge success. Within two days more than 500 reservations were received and the media all over the world picked it up.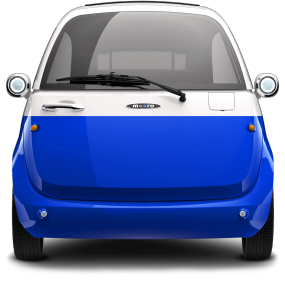 To get from a prototype to a series ready vehicle they partnered up with Tazzari, an Italian electric car specialist in April 2016. After an intense period of development we could finally unveil the first pre-series Microlino in January 2018. Currently there are more than 16,000 reservations for the Microlino and the production is scheduled to start in 2021.