Toyota Corolla Hybrid Electric Car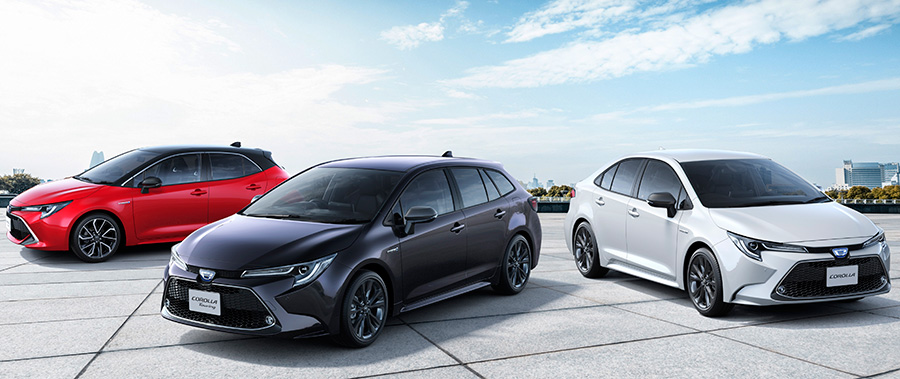 From the left: Corolla Sport Hybrid G "Z", Corolla Touring Hybrid WxB, Corolla Hybrid WxB
About the Toyota Corolla Hybrid Electric Car
View the brochure for the 2020 Corolla here
Toyota City, Japan, September 17, 2019―Toyota Motor Corporation (Toyota) announces the launch of its completely redesigned Corolla (Sedan) and Corolla Touring (Wagon) in Japan (previously "Corolla Axio" and "Corolla Fielder" respectively, in Japan), and the improved Corolla Sport (Hatchback), and the start of sales at Toyota Mobility Tokyo Inc., Netz Toyota Toto Co., Ltd, Netz Toyota Tama Co., Ltd., and Toyota dealers across Japan.
Since its debut in 1966, Corolla has become a car loved by customers all over the world, and has been cultivated as a long-term strong seller, with a track record of over 47.5 million vehicle sales in more than 150 countries and regions.
The introduction of the Corolla Sport as a new model in the Corolla series in June last year, and the adoption of the TNGA platform, has greatly revitalized the design and driving. The Corolla Sedan version and Corolla Touring Wagon version are new introductions to the Corolla series, allowing a varied choice of vehicles to suit customers' lifestyles.
Utilizing the TNGA platform and design with Japan roads in mind results in sporty styling with a low center of gravity, enjoyable driving, and responsive handling. The new models are equipped with the latest Toyota Safety Sense, delivering enhanced safety performance. On-board connected services have also been upgraded to include Toyota's first Display Audio as standard, installed in conjunction with smartphones.
"The Corolla is a car that is always ready to evolve to meet customers' current needs," says Yasushi Ueda, chief engineer in charge of development. "For this reason, it has been a long-term favorite of customers in Japan and all over the world. The new Corolla exceeds customer expectations by 'adopting the TNGA platform, sporty design, and pleasurable driving.' With the advanced safety equipment and connected functions, the safe and secure everyday driving of our customers is supported. I would like you to experience riding in or driving the Corolla series just to understand the sheer fun of driving this car."
In reassessing the grades and some equipment of the conventional Corolla Axio and Corolla Fielder, while continuing to sell them, has meant a wide range of customer needs, including those of corporate customers, can be met.
Toyota New Global Architecture. Toyota's company-wide global program to structurally transform automobile design. The goal of TNGA is to dramatically improve the basic performance and marketability of Toyota vehicles by redeveloping powertrain units and vehicle platforms and reconceiving overall vehicle optimization
THS II TOYOTA Hybrid System II
Super CVT-i Super Continuously Variable Transmission-intelligent
i-MT intelligent Manual Transmission
Includes consumption tax; does not include recycling fees. Different pricing applies for Hokkaido and Okinawa. If vehicle registration occurs in October 2019 or later, a 10 percent consumption tax will be applied. If vehicle registration occurs in September 2019 or before, the 8 percent consumption tax will be applied.
Corolla, Corolla Touring Vehicle Outline
Simple and sporty style with enhanced visibility
Exterior Design
The TNGA platform creates a striking silhouette with a low center of gravity.
Wide stance with dynamic molding featuring protruding front and rear wheel flares.
The lower grille frame seamlessly blends into a large trapezoid and mesh grille to express a powerful and sporty stance.
LED headlamps integrated in a slight upwardly curve further enhance the sporty, wide face. The WxB grade lends a bright and vibrant impression to the horizontal direction regardless of day and night with two consecutive J-shaped clearance lamps and day lights. The rear of the Corolla has horizontally accented rear combination lights that emphasize wideness.
The Corolla Touring's side view expresses sportiness with a flowing side window design that runs smoothly from the door shoulders to the rear.
The Corolla Touring realizes three-dimensional modeling by adopting resin rear doors.
Exterior Color
The WxB grade comes in a new Sparkling Black Pearl Crystal Shine. All three sporty colors are chic and carefully coordinated with gray metallic wheels and mirror covers. S and G-X grades consist of seven colors including the newly developed Celestite Gray Metallic.
Interior Design
The instrument panel is thin and wide to create a feeling of spaciousness. Meticulously color coordinated interior design produces a space that resonates sensitivity and a unified feeling of shape and texture, while the A-pillar enhances visibility.
Improved front seating comfort is achieved with a sporty seat (standard for WxB), and newly adopted knee space for the rear seats for ease of use.
The Corolla Touring is equipped with an adjustable deck board, and the height of the cargo floor can be set at two heights. A flat space convenient for loading long luggage is created by setting the height in the upper position with rear seats folded down, and tall luggage can be loaded by placing it in the lower seat. (Vehicles equipped with spare tires, optional power outlet, and 4WD have a deck board that can be set at one height only.) The back of the deck board is made of resin for heavy-duty use, thus enhancing the vehicle's practicality as a wagon.
The interior color for the WxB grade, of the Corolla and Corolla Touring, is available in two colors: Black and White. S, G-X grades come in a chic black interior only.
Pursuing a high-quality ride and pleasure of driving
With further refinements to the TNGA platform, the vehicle features improved chassis rigidity, handling stability, and quietness.
Enhancing the fun of driving with three powertrains
The hybrid and gasoline engines have been changed from 1.5 liter to 1.8 liter to achieve seamless acceleration with superior comfort.
The hybrid vehicle is equipped with an E-Four (electronic four-wheel drive system), enabling smooth switching to 4WD on slippery surfaces such as when accelerating and on snowy roads, contributing to driving stability and fuel efficiency.