AMC Electron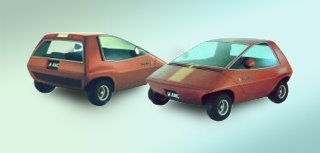 American Motors concept Electron
The Electron was an American concept automobile built in 1977 by American Motors Corporation (AMC).
Design
The experimental three-passenger commuter "city car" was designed for short-trip urban transportation. The clamshell-style roof swung back on rear-mounted pivots for entry and egress.
The Electron was based on previous development of the AMC Amitron. Powered by a lightweight lithium battery system, the Electron was designed in anticipation of further advances in electronic technologies.
The Electron (along with the AM Van, Grand Touring, Concept I, Concept II, and Jeep II) constituted the "Concept 80" program that illustrated what the company saw for future vehicles. This was a nationwide tour of idea cars to highlight American Motors' role in the future car markets.
From Wikipedia, the free encyclopedia: Text is available under the Creative Commons Attribution-ShareAlike License; additional terms may apply. See Terms of Use for details.