Detroit Electric Car Company
Detroit Electric
Detroit Electric (1907 - 1939) was an automobile brand produced by the Anderson Electric Car Company in Detroit, Michigan.
History
Anderson had previously been known as the Anderson Carriage Company (until 1911), producing carriages and buggies since 1884. Production of the electric automobile, powered by a rechargeable lead acid battery, began in 1907. For an additional $600.00 an Edison nickel-iron battery was available from 1911 to 1916. The cars were advertised as reliably getting 80 miles (130 km) between battery recharging, although in one test a Detroit Electric ran 211.3 miles (340.1 km) on a single charge. Top speed was only about 20 miles per hour (32 km/h), but this was considered adequate for driving within city or town limits at the time.
The Detroit Electric was mainly sold to women drivers and physicians who desired the dependable and immediate start without the physically demanding hand cranking of the engine that was required with early internal combustion engine autos. A statement of the car's refinement was subtly made to the public through its design which included the first use of curved window glass in a production automobile, an expensive and complex feature to produce.
The company production was at its peak in the 1910s selling around 1000 to 2000 cars a year. Towards the end of the decade the Electric was helped by the high price of gasoline during World War I. In 1920 the name of the Anderson company was changed to "The Detroit Electric Car Company" as the car maker separated from the body business (it became part of Murray Body) and the motor/controller business (Elwell-Parker).


1920 advertisement
As improved internal combustion engine automobiles became more common and inexpensive, sales of the Electric dropped in the 1920s but the company stayed in business producing Detroit Electrics until after the stock market crash of 1929. The company filed for bankruptcy, but was acquired and kept in business on a more limited scale for some years building cars in response to special orders. The last Detroit Electric was shipped on February 23, 1939, (though they were still available until 1942), but in its final years the cars were manufactured only in very small numbers.
Notable people who owned Detroit Electrics cars included Thomas Edison, Charles Proteus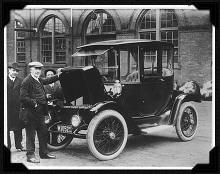 Steinmetz, Mamie Eisenhower, and John D. Rockefeller, Jr. who had a pair of Model 46 roadsters. Clara Ford, the wife of Henry Ford, drove Detroit Electrics from 1908, when Henry bought her a Model C coupe with a special child seat, through the late teens. Her third car was a 1914 Model 47 brougham. (Edison with Detroit Electric in picture above)
Detroit Electrics can be seen in various automobile museums. For example, in the Belgian AutoWorld Museum in Brussels, and in Altlußheim, Germany. A beautifully restored and operational Detroit Electric, owned by Union College, is located the Edison Exploratorium in located in Schenectady, NY.
| | |
| --- | --- |
| | 1918 Detroit Electric |
| | Chassis |

Detroit Electric Drivetrain
2008 revival
Detroit Electric was an early 20th Century electric car, "perhaps the most popular in history," according to Albert Lam, Chairman and CEO. The Anderson Electric Car Company started building cars under the Detroit Electric brand over 100 years ago.
February 7, 2008- In a joint announcement, the US electric car pioneer and China Youngman Automotive Group announced that they would revive the 100 year-old electric car brand Detroit Electric for an automotive joint venture to bring new vehicle technologies to market.
In August 2008, led by Chairman and CEP Albert Lam, a management buy-out of Detroit Electric was completed ending the involvement of ZAP and China Youngman Automobile Group. In the agreement, ZAP and China Youngman Automobile Group agreed to sell its ownership rights in Detroit Electric for $750,000, the amount it had originally invested.
According to an SEC filing, the Detroit Electric joint venture, named after America's oldest and longest-running electric car company, was launched in September 2007 with Youngman. Originally called EV Holdings Ltd. and incorporated in Hong Kong, the venture was renamed Detroit Electric early this year. ZAP and Youngman had originally agreed to invest a total of $100 million in the venture, but the companies quickly agreed to revise that to just $5 million, $2.5 million each. However, even that truncated investment was never made, and both ZAP and Youngman were unsuccessful in securing outside financing to help float the nascent Detroit Electric, according to the SEC filing.
Detroit Electric recently announced a working agreement with Proton Holdings in Malaysia. Under the agreement, Detroit Electric will license two Proton vehicle platforms and contract the company to assemble the electric vehicles that will be marketed under Detroit Electric's brand. This agreement will provide Detroit Electric with its first manufacturing base.
Partnership with Proton
On March 31, 2009 Detroit Electric announced plans to progressively roll out affordable electric vehicles worldwide by the end of 2010 through its partnership with Proton. Proton, which currently produces a total of 270,000 vehicles of various models in Malaysia, edged out a host of international brands when its popular Persona was named Malaysia's Best Model of the Year in the 2008 Frost & Sullivan ASEAN Automotive Awards. The company is also Malaysia's largest investor in research and development, spending USD 1.2 billion (RM4.6 billion) between 1993 and 2003.
The vehicles will be based on Detroit Electric's unique, patented electric drive system that greatly reduces the electric motor's size and weight. The underlying Magnetic Flux Motor Technology and well-proven Lithium Polymer Battery Technology allow pure electric vehicles to achieve a single-charge range of 180 km (111 miles) for the city range model and 325 km (200 miles) for the extended range model.
By 2012, Detroit Electric plans to sell more than 270,000 Pure Electric Vehicles in Europe, UK, China and the United States. The vehicles will be priced between USD 23,000 and USD 26,000 for the city range model and between USD 28,000 and USD 33,000 for the extended range model. Styling changes will distinguish Detroit Electric's vehicles from Proton's existing line-up.
In addition to announcing its partnership with Proton on March, Detroit Electric announced the formation of Detroit Electric Advanced Propulsion Lab, which will manufacture the motor and controller. The Detroit Electric Advanced Propulsion Lab and Manufacturing Plant is targeted to be in Malaysia close to the vehicle assembly facilities of Proton. By 2012, the two production plants will produce more than 400,000 electric drive systems, creating thousands of jobs and supporting Detroit Electric's internal demands as well as third-party OEM's needs.
Detroit Electric will be responsible for the homologation of the vehicles and for vehicle certification in the U.S. and European markets, where models are targeted to be sold in the first quarter of 2010 EU, UK, China and closely followed the US. Detroit Electric will assume all warranty and liabilities for the Electric Vehicles, while Proton will warranty the vehicle's build and standard components.
The Detroit Electric and Proton agreement also initiated the test and validation program in which Proton will evaluate Detroit Electric's electric drive system with the intent to license the rights to distribute, market and sell vehicles under the Proton brand in Asia.
Extracts from Wikipedia, the free encyclopedia: Text is available under the Creative Commons Attribution-ShareAlike License; additional terms may apply. See Terms of Use for details.