Riker Electric Vehicle Company
Riker Electric Vehicle Company
The Riker was a veteran and brass era electric car founded in 1898 in Elizabeth, New Jersey.
Andrew Lawrence Riker was an early designer of automobiles -- aptly called "horseless carriages." He was born in New York City on October 22, 1868, the son of William J. and Charlotte L. Riker.
Riker sketched a never-to-be-built electric-powered three wheeler in 1884 and in 1888-89 he founded the Riker Electric Vehicle Company (located in Elizabethport, NJ), soon to become one of the country's largest manufacturers of electric cars and (later) trucks.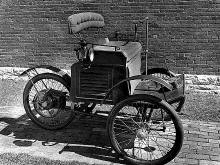 In 1887, Riker added electric power to an English Coventry Tricycle
Riker produced his first electric car in 1894, using a pair of Remington bicycles as a base.
An article in the September 26, 1896 edition of Scientific American lists The Riker Electric Motor Company, of Brooklyn, N. Y as the winner of the horseless carriage race in Narragansett Park track at Providence, R. I. The prize was $900.00. The article also states "The fastest mile was made by the Riker electric carriage, the time being 2:13." This is possibly the first automobile race done around a track in the USA.
The advertisements shown below appeared in such prestigious magazines of the day as Harper's Magazine (above) and McClure's Magazine (below). The publication running the "Ride in a Riker" ad is unknown. The three vehicles pictured are the Riker Electric Demi-Coach, the Riker Electric Victoria, and the Riker Electric Phaeton.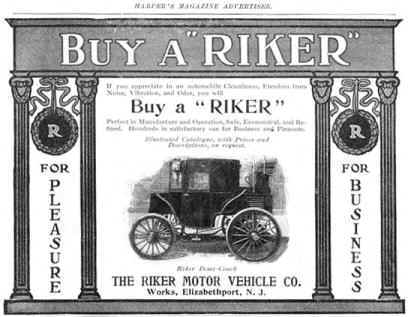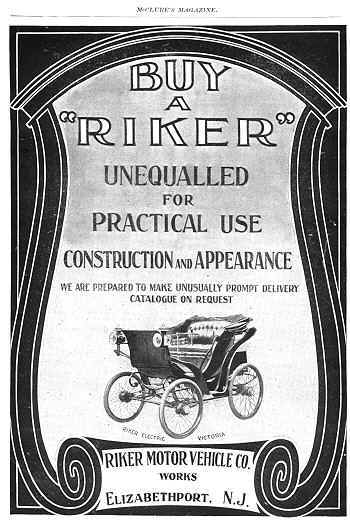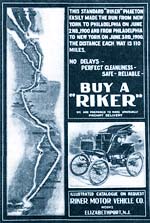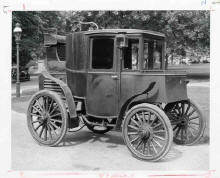 This 1896 Riker Electric was built until 1900, when Andrew Riker decided to switch to gasoline engines.
Riker electrics were produced by Riker Electric Motor Co. of Brooklyn NY from 1896 to 1899, then by Riker Electric Vehicle Co. of Elizabethsport NY until 1900 and finally by the Riker Motor Vehicle Co (still in Elizabethsport) after 1900, all named for Andrew Lawrence Riker. While the Riker electrics included a variety of cars including a record-holder racer, the production vehicles were mostly 2-seater runabouts and dos-à-dos 4-seaters. The Riker marque is probably best-known however for their heavy electric trucks.
After a merger with Electric Vehicle Company in 1901, only the trucks continued to be built under the Riker name. There are 3 Rikers in the holdings of the Henry Ford Museum in Dearborn MI : an 1896 3-wheeler electric Riker 2-seater; an 1898 electric truck (5 ton?); and, the 1901 Riker electric racer which set a world speed record of 57.1 mph.
Riker became the first president of the Society of Automotive Engineers. He donated an electric car to the Henry Ford Museum.
Extracts from Wikipedia, the free encyclopedia: Text is available under the Creative Commons Attribution-ShareAlike License; additional terms may apply. See Terms of Use for details.