Sebring-Vanguard, Inc. - Citicar

Citicar
Manufacturer
Sebring-Vanguard
Also called
Comuta-Car, Comuta-Van
Production
1974
Successor
Comuta-Car and variants 1979 - 1982
Class
Battery Electric
Body style(s)
2-door 2-seat
Engine(s)
GE Series DC motor; 2.5 HP (early), 3.5 HP, or 6 HP (late)
Battery type: 6 X 6v or 8 X 6v lead-acid
Length
2,437 mm (95.9 in)
Width
1,397 mm (55.0 in)
Height
1,524 mm (60.0 in)
Curb weight
591 kg (1,303 lb)
Designer
Bob Beaumont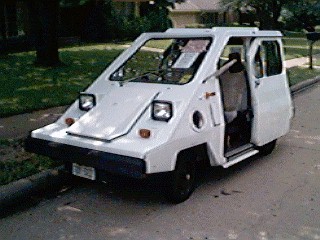 Citivan
The CitiCar was produced between 1974 and 1977 by a U.S. company called Sebring-Vanguard, Inc., based in Florida. The CitiCar and variants are the most produced electric car in American automobile history. Sebring-Vanguard was sold to Commuter Vehicles, Inc Commuter Vehicles, Inc. produced similar vehicles (the Comuta-Car and Comuta-Van) from 1979 to 1982.
History
The CitiCar was a small electric vehicle, first produced in Florida in 1974 by a company called Sebring-Vanguard partly in response to the mid-1970s fuel crisis. The CitiCar was a tiny golf cart sized car that could go at a top speed of about 39 mph (63 km/h). Early versions had no extra features such as locking doors or air conditioning. In 1976, enough CitiCars were produced to promote Sebring-Vanguard to the position of being the U.S. #6 auto manufacturer after GM, Ford, Chrysler, AMC, and Checker (Taxis...) Production of the CitiCar continued until 1977 with about 2,300 CitiCars produced. Commuter Vehicles, Inc. purchased the CitiCar design, and renamed the vehicle Comuta-Car. Production of an upgraded version began in 1979 and Commuter Vehicles, Inc. produced an estimated 2,000 Comuta-Cars and Comuta-Vans. At about 4,300 C-Car variants produced, it still holds the record for most road-legal electric cars made in automobile history.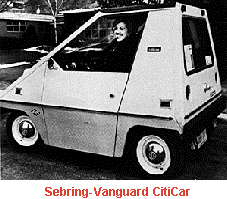 Models
The CitiCar came in three models. The original Coupe was the smallest of the three. It had a flat diagonal front, a flat roof, and a flat nearly vertical back. Early coupes had a 2.5 HP motor and 36v battery pack. Later coupes had a 3.5 HP motor and 48v battery pack, and numerous small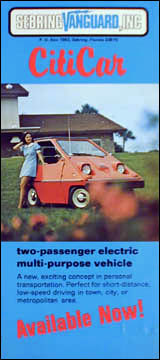 improvements. The later Comuta-Car model had a larger 6 HP motor, and moved the batteries from under the seat to the bumpers, making the vehicle about 16 inches (410 mm) longer than the 8-foot (2.4 m) long CitiCar. The largest of the three was called the CitiVan, or Comuta-Van. The overall length was increased to 142 inches (3,600 mm), and it had a 12 HP motor, 72v battery pack, and 3-speed transmission. It still held two passengers, but also had room for storage. It was the only model with a trunk and sliding door. Many Comuta-Vans were built with right-hand-drive for the US Postal Service. All vehicles were built with welded aluminum pipe space frames and ABS plastic bodies, with solid axles and leaf spring suspension front and rear. Top speeds were about 30-50 mph, and range was up to 40 miles per charge.
From Wikipedia, the free encyclopedia: Text is available under the Creative Commons Attribution-ShareAlike License; additional terms may apply. See Terms of Use for details.