Woods Motor Vehicle Company
Woods Motor Vehicle Company was a manufacturer of electric automobiles in Chicago, Illinois between 1899 and 1916. The company was started by Clinton Edgar Woods who wrote the first book on electric vehicles.
The 1904 Woods Stanhope was a stanhope model. It could seat 2 passengers and sold for US$1800. Twin electric motors, situated at the rear of the car, produced 2.5 hp (1.9 kW) each. The car weighed 2650 lb (1202 kg) with a 40 cell battery.
The 1904 Woods Victoria was a carriage-styled model. It could seat 2 passengers and sold for US$1900. The same twin electric motors as the Stanhope were used, though a 4-speed transmission was fitted. The car weighed 2,700 pounds (1,200 kg). 40 batteries were also used, with an 18 mph (29 km/h) top speed.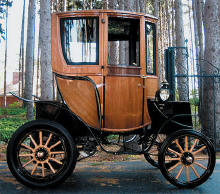 A 1905 Woods, 214a Brougham electric car. Curator/photographer: James Cousens.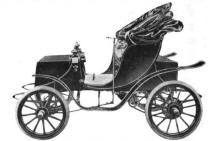 1906 Woods Queen Victoria Electric

Early hybrid
At $2,700, The Dual Power Model 44 Coupe had a 4 cylinder internal combustion engine as well as electric power. Below 15 mph (24 km/h) the car was electric powered and above it the conventional engine took over to take the vehicle to a maximum of around 35 mph (56 km/h). It is today considered a historic hybrid electric vehicle.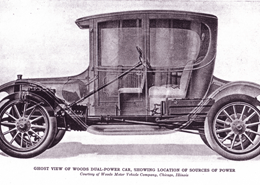 1917 Woods Dual Power
The 1917 Woods Dual Power featured a four-cylinder gas engine coupled to an electric motor-generator. Built only in 1917 and 1918, the early gas-electric hybrid was too expensive, slow, and difficult to service to be a commercial success.
(Photograph courtesy of Petersen Automotive Museum Archives)

Some information extracted from Wikipedia, the free encyclopedia: Text is available under the Creative Commons Attribution-ShareAlike License; additional terms may apply. See Terms of Use for details.