Press Release: Strong Demand for Volvo XC40 Recharge
Press Release
| | | |
| --- | --- | --- |
| Date of issue | | Jan 23, 2020 | ID: 261574 |
Strong early consumer demand for fully electric Volvo XC40 Recharge P8 AWD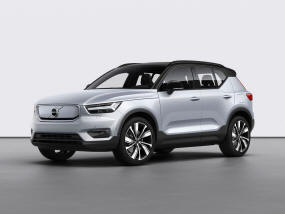 Volvo Cars has now formally opened order books for the XC40 Recharge P8 AWD, the company's first fully electric car based on the best-selling SUV, in selected markets.
Tens of thousands of consumers have shown keen interest in the all-electric XC40 and the company already received several thousands of firm orders even before the formal start of sales. Production and the first customer deliveries of the XC40 Recharge P8 are scheduled to begin later this year.
The initial order intake is the latest proof of strong demand for Volvo Cars' Recharge car line, the name for all Volvos with a fully electric and plug-in hybrid powertrain. The company aims to make all-electric cars 50 per cent of global sales by 2025, with the rest hybrids.
Volvo Cars sold almost 46,000 plug-in hybrid cars in 2019, an increase of 23 per cent compared to 2018 and more than double the amount sold in 2017. During the fourth quarter of 2019, plug-in hybrids comprised more than 20 per cent of all Volvos sold in Europe.
The company is also seeing strong and continued growth in terms of online customer configurations for Recharge cars, which counted for around a third of all configurations in the region during the fourth quarter of 2019.
"It is clear that customers like what they see in our Recharge car line," said Björn Annwall, head of EMEA and global commercial operations. "Our Recharge cars are everything customers expect from a Volvo, with the addition of a state-of-the-art fully electric or plug-in hybrid powertrain."
The XC40 Recharge P8 is the first of a family of fully electric Volvos. It represents a true milestone for Volvo Cars, as the company's first fully electric car and the first Volvo with a brand new infotainment system powered by Google's Android operating system.
As a fully electric version of the best-selling XC40 SUV, the first Volvo to win the prestigious European Car of the Year award, the XC40 Recharge P8 is based on the Compact Modular Architecture (CMA), an advanced vehicle platform co-developed within the Geely Group.
The all-wheel drive XC40 Recharge P8 offers a range of over 400 km (WLTP) on a single charge and output of 408hp. The battery charges to 80 % of its capacity in 40 mins on a fast-charger system.
The new, Android-powered infotainment system offers customers unprecedented personalisation, improved levels of intuitiveness and embedded Google technology and services, such as the Google Assistant, Google Maps and the Google Play Store. The XC40 Recharge P8 also receives larger software and operating system updates over the air.
While building on the excellent safety standards of the original XC40, Volvo Cars safety engineers have completely redesigned and reinforced the frontal structure of the Recharge P8 to address the absence of an engine, meet Volvo Cars' high safety requirements and help keep people as safe as in any other Volvo.
The battery is protected by a safety cage embedded in the middle of the car's body structure. Its placement in the floor of the car also lowers the centre of gravity of the car, for better protection against roll-overs.
Inside, an innovative approach to all-round functionality provides drivers with plenty of storage space, for example in the doors, under the seats and in the trunk. Not having an internal combustion engine means the car provides drivers with even more storage space than the regular XC40, via a so-called 'frunk' under the front hood.
-------------------------------
Volvo Car Group in 2018
For the 2018 financial year, Volvo Car Group recorded an operating profit of 14,185 MSEK (14,061 MSEK in 2017). Revenue over the period amounted to 252,653 MSEK (208,646 MSEK). For the full year 2018, global sales reached a record 642,253 (571,577) cars, an increase of 12.4 per cent versus 2017. The results underline the comprehensive transformation of Volvo Cars' finances and operations in recent years, positioning the company for its next growth phase.
About Volvo Car Group
Volvo Cars was founded in 1927. Today, it is one of the most well-known and respected premium car brands in the world with sales of 642,253 cars in 2018 in about 100 countries. Volvo Cars has been under the ownership of the Zhejiang Geely Holding of China since 2010.
In 2018, Volvo Cars employed on average approximately 43,000 (39,500) full-time employees. Volvo Cars head office, product development, marketing and administration functions are mainly located in Gothenburg, Sweden. Volvo Cars head office for APAC is located in Shanghai. The company's main car production plants are located in Gothenburg (Sweden), Ghent (Belgium), South Carolina (US), Chengdu and Daqing (China), while engines are manufactured in Skövde (Sweden) and Zhangjiakou (China) and body components in Olofström (Sweden).
Under its new company purpose, Volvo Cars aims to provide customers with the Freedom to Move in a personal, sustainable and safe way. This purpose is reflected into a number of business ambitions: for example, by the middle of this decade it aims for half of its global sales to be fully electric cars and to generate half of its revenue from its direct consumer business. Volvo Cars is also committed to an ongoing reduction of its carbon footprint, with the ambition to be a climate-neutral company by 2040.
Descriptions and facts in this press material relate to Volvo Cars' international car range. Described features might be optional. Vehicle specifications may vary from one country to another and may be altered without prior notification.