EV battery reuse: The newest value addition to the energy storage sector
Author:
Global Market Insights
The dominance of ICE vehicles is gradually fading as electric vehicles are starting to take off in the global market, increasing from 3 million in 2020 to 6.6 million in 2021 to a probable 43 million by 2030. This growth of EVs and automakers' electric commitments given the rising GHG levels have set an exciting yet an unexplored path ahead for the automotive domain. As beneficial as they are, the one ambiguity that concerns the fate of EV batteries is that they are no longer in use in automobiles once they reach the end of their service life.
Given the surge in the use of EV batteries, it is crucial to have strategies planned around battery management. Research activities and pilot projects are underway to explore promising pathways, one of which is EV battery reuse.
Currently available EV batteries are generally perceived to be able to last for at least 10 years. Over time, as they charge and discharge, they start to degrade. But when they eventually become quite unsuitable for fueling a car, they can be used elsewhere. A study by National Renewable Energy Laboratory anticipates that these batteries are likely to retain about 70% of their initial capacity even in their second use, when treated properly.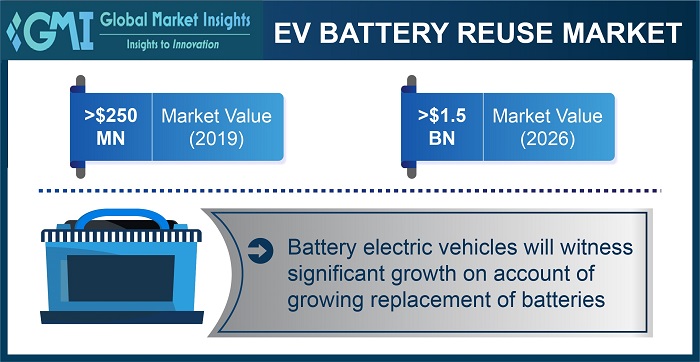 Some of the leading carmakers, including Tesla, Nissan, and Hyundai, have forayed into the EV battery reuse market, and offered to rebuild or refurbish battery packs in EVs. In a recent instance, Hyundai, in 2021, announced partnering with two local allies, OCI Solar Power and CPS Energy, in Texas to reuse EV batteries as energy storage systems (ESS).
In yet another EV battery reuse initiative, researchers at Cornell University, partially backed by the U.S. National Science Foundation, outlined ways to sustainably reuse Li-ion EV batteries to cut down their carbon footprint. The aim behind this was to investigate how reusing can influence the energy output and environmental impact of these batteries. Through the analysis, researchers were able to conclude that carbon footprint of Li-ion batteries can be reduced to 17% if reused before recycling, later being used to store solar and wind energy.
Various central governments are working towards introducing incentives and initiatives to support EV battery recycling and reuse across different economies. Say for instance, one of the leading battery makers in Norway, announced receiving nearly $5 million from a state enterprise owned by Ministry of Climate and Environment.
This makes Norway one of the major hotspots, across the Europe, for EV battery reuse market. A summary about the latest EV battery reuse trends across the region is enumerated below.
Electric mobility: Norway races ahead in EV sales
Norway, one of the leading countries in EV market industry, recorded 74.8% of the EV sales in 2020. This has produced a significant impetus for the EV battery market. The growth can be ascribed to the favorable government policies, large EV battery supply, and inexpensive and clean renewable energy. Moreover, Norway's rich natural resource base and exceptionally skilled process industry is earmarked to enable the country to become a world leader in battery reuse and recycling.
Norway's roadmap 2030: opportunity for battery re-use
The country with 5 million people has an ambitious target of only selling zero-emission passenger cars, city buses, and LCVs from 2025. The government plans to work in tandem with EU requirements for the reduction of carbon emissions from latest vehicles which leads to increased availability of EV batteries across all segments. In this regard, the EV batteries are likely to be available for reuse in the country from 2025 with a significant surge in volume towards 2030.
In 2020, Hydro and Northvolt merger, HydroVolt, announced establishing a recycling plant in Norway for Li-ion batteries from EVs. Reports suggest that the plant will use aluminum from the batteries to re-use them in operations in Hydro, while the remaining materials would be processed by Northvolt in Sweden.
All in all, increasing EV trend across the country and mounting cognizance towards reusing the EV batteries will open positive growth opportunities for the overall regional market in the years to follow.
Supporting green future with ESS: prominent EV battery reuse application
Energy storage systems or ESS deployment is growing considerably, with developers installing more projects at a rapid pace. These systems can integrate renewables by transforming energy to high demand periods or provide grid services like spinning reserve or frequency control. In addition to being a key component in expansion of renewables and making sure of a reliable, sustainable, and economic power supply, ESS are also an important factor in sector coupling.
Many clean energy technology companies are re-using EV batteries for energy storage systems. In a recent example, Exro Technologies announced repurposing evTS electric vehicle batteries into second life ESS. The project aims to optimize the FireFly ESV batteries, evTS' flagship product, into a second life, supporting 5 to 10 years of addition use, with its ESS.
Takeaway:
The end of an electric vehicle's life does not indicate the end of its battery. Reuse is considered to be an economical resort to process the rising number of lithium-ion EV batteries. A paradigm shift of EVs into mainstream use has already disrupted the automotive value chain in significant ways and is now on the verge of revolutionizing the energy-storage value chain with the trend of EV battery reuse pacing up.