Electric Forklift Market Share Research By Applications, Growth, And Emerging Technology Till 2026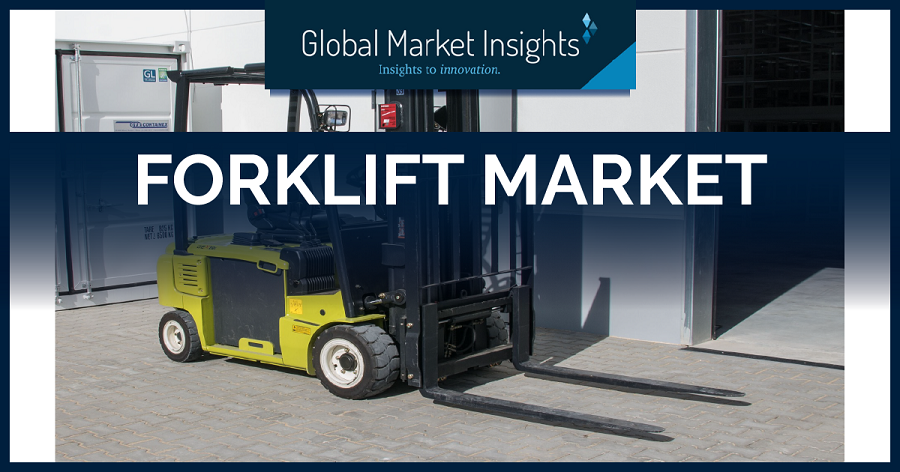 Forklifts or powered industrial trucks have become the workhorses of cutting-edge warehouse and distribution operations. Use of forklifts to swiftly move pallets of products and materials has streamlined the operation and has fueled the productivity. The major selling point for companies operating in powered industrial trucks has been efficiency and speed. The elimination of issues such as wasted time and space has translated into cross docking operations and better warehousing.
Forklifts have brought a paradigm shift in the way warehouse functions make it possible for a person to transport weight at a single go. When it comes to achieving efficient and effective warehousing operation, identification of the right crop of warehouse assets, optimal layout, and apt use of these assets has become indispensable.
There is no denying that inapt forklift-use can significantly add a toll by wasting travel time and derailing the operation of warehouse. Several leading companies such as Amazon have found that the key to an ideal warehousing culture can be achieved through flexibility. While some are looking for a leased forklift equipment, others are eyeing to use current equipment in an innovative or different way.
Warehousing has become an invaluable part in supply chain industry as ineffective operations can invite backlogs and put a break on the operation. In a bid to keep up with the market demand fluctuation, use of powered industrial trucks (PITs) in warehouse will continue to soar by leaps and bounds in the ensuing period.
Forklifts have set the trend in unit-load warehouses that are common in bulk storage areas warehousing operations. These warehouses tend to receive, store and ship products in unit-load and use forklifts to transport them. Upsurge in the volume of imported products by countries such as India, the U.S., China and the U.K. has signified the importance of forklifts in industrial warehouses and distribution centers.
Electric forklifts
In recent years, electric forklifts have become a top-notch powered industrial truck for warehouses, having strong presence in the material handling and lift truck environment. A battery of companies is counting on electric forklifts which have become a realistic alternative to diesel-powered industrial trucks and are equally potent, economical to operate, safer, cleaner, quieter, and easier to maintain.
Electric warehouse forklifts have been able to reduce fuel costs and can boost efficiency. Here are some of the major takeaways from electric forklifts:
<![if !supportLists]> · <![endif]> Lower emission: At the time when greenhouse gas emissions have been plaguing the world like never before, electric forklifts have become the apt alternative to reduce the impact of emissions and keep associates healthy in the warehouse.
<![if !supportLists]> · <![endif]> Less noise: While there is no denying that use of multiple forklifts creates cacophony in the warehouse, electric forklifts minimize noise level and enable easier communication and less fatigue.
<![if !supportLists]> · <![endif]> Operating cost: Even though gasoline forklifts can be stronger than electric forklifts, they tend to add the overhead costs. The cost of electricity can be considerably lower than gasoline.
Electric forklifts have become an apt choice to boost productivity and increase ROI. Manufacturing ergonomically designed forklifts with super design to bolster overall uptime, dependability and low cost of ownership are boosting forklift's lateral stability. In April 2018, Toyota had rolled out Traigo80 heavy duty electric forklift which the company claims can excel in efficiency, performance and maneuverability.
Driverless forklifts have come to the fore and have moved beyond the novelty stage and are profoundly being deployed in warehouses. Some of the leading forklift OEMs such as Crown Equipment, Toyota, Yale and Hyster are introducing driverless or robotic forklifts. Moreover, countries such as the U.S. are grappling with dearth of qualified employees, automation may aid in filling the gap by providing continuous service 24/7. OSHA have issued several guidelines pertaining to the use of forklifts.
A peek at OSHA guidelines
Quoting OSHA, anyone under 18 years of age operating a forklift and anyone over 18 years of age who is not properly trained and certified to do so will be a clear violation of Federal Law. For instance, the National Safety Council offers an OSHA compliant training to develop safer forklift operators. It is worth noting that OSHA is looking for update of powered industrial trucks standard. Besides, e-commerce giants such as Amazon are providing training on using forklift safely and securely.
Business strategies
With some of the leading companies vying to boost their portfolios and ROIs, Crown Equipment undertook a strategic collaboration with JBT in April 2019. While in September 2018, Crown Equipment acquired three sales, service locations in South Carolina to boost its material handling technologies such as forklifts.
In June 2018, Hyster-Yale Material Handling, Inc. announced the acquisition of 75% of the outstanding shares of, and a controlling interest in Zheijang Maximal Forklift Co., Ltd. The strategic acquisition will help the company boost its low-cost, and manufacturing capabilities and product portfolio.
Forklifts are poised for a breakthrough in warehouse with the advent of electric and driverless technologies. Forward-looking forklift OEMs are paying more heed to OSHA guidelines and are offering training to associates/employees. With electric forklifts offering upsides abound, more and more companies are switching to the advanced forklifts. Global Market Insights, Inc. has predicted forklift market size to be hovering around 100 bn by 2026.
Author details:
Vinisha Joshi
A qualified Engineering graduate, Vinisha Joshi takes pride in playing with words. Presently, she pens down insightful articles on business, core industry, technology, and the like. Creativity comes naturally to her, and Vinisha makes sure to effectively combine the same with her technical expertise in the articles she writes.